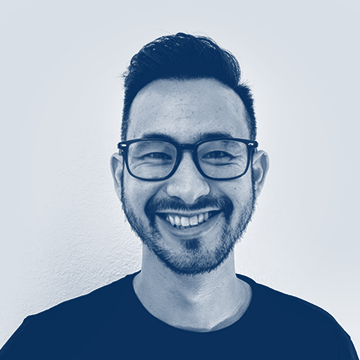 Daniel Ciurlizza is one of the hardest working composers on the Score a Score roster, always pushing himself to meet the highest of standards and consistently creating beautiful work. His music with SAS spans across a variety of mediums, but much of it is catered specifically to movie trailers - his work has been featured in campaigns for films like The Handmaid's Tale, Won't You Be My Neighbor, and X-Men: Dark Phoenix. You may have also heard his samples in Top 40 songs by Drake, Kanye West, Coldplay, Khalid, and other artists.
What's the strangest method you've used to get the perfect sound?
My team was doing a lo-fi album and, instead of using a regular mic, we used a converted shotgun shell as a microphone. Talk about bang for your buck.

What are two things you're most proud of? One musical/professional, one personal. No humility allowed.
Developing the practice of using kindness and generosity as a business model.
Having figured out my way of balancing deep happiness at all times, while embracing that I'll always be unsatisfied and hungry for more.
What's the most interesting non-music job you've ever had?
I've been an ice cream man, a janitor, and an intern working at John Powell's studio. One of the most memorable jobs I've had was as an event staffer.
It took me to the best wineries in Napa Valley, a Pixar movie premiere, and a WWII aircraft carrier. I even gave one of the MythBusters a crostini.
If you were a sound design element, what would you be? (i.e. a screaming riser, a stuttered powerdown, a fireball woosh, a high eq metal ping)
An atmospheric intro that says, "let me tell you an interesting story..."
Music Sampler: